Babylonian Drifts / Derivas babilónicas

---
Produced by
Centre Arts Santa Mónica
(Barcelona) and Santiago Morilla, in collaboration with
Carpintería Expandida
(Madrid)
Curated by
Jordi Pallarés
.
In collaboration with
Massa Crítica BCN
.
︎
With bicycles with transporters, baskets and/or mobile bike-greenhouses already designed and produced, the project "Babylonian Drifts" invites citizens to walk their personal indoor plants (those
reliable
ones) around the city, with an evident and playful strategy of visibilization and sporadic occupation of non-humans in the urban space. A sort of chlorophyll procession where plants and humans re-occupy and re-use the public space in an alternative way.
This project aims to facilitate reflection on the act of exposing oneself publicly, but also seeks to critically activate the visual relationships we establish with
otherness
in public spaces. It is, in fact, an attempt to recover a certain consciousness of integrative occupation, of alternative presence, with a gaze of strangeness that allows us to see ourselves participating in "The Parliament of Things" (Latour), representing those who have no voice or presence in our daily political actions.
Con bicicletas provistas de transportines, cestas y/o bici-invernaderos móviles previamente diseñados y producidos, el proyecto "Derivas Babilónicas" invitaba a la ciudadanía a pasear sus plantas (las
personales
,
caseras
, las de
confianza
) por la ciudad, con una evidente y lúdica estrategia de visibilización y ocupación esporádica de los no-humanos en el espacio urbano. Se produjo así una suerte de procesión clorofílica donde plantas y humanos re-ocupaban y re-utilizaban el espacio público de manera alternativa.
Este proyecto tiene como objetivo facilitar la reflexión sobre el acto de exponerse públicamente, pero también busca activar críticamente las relaciones que establecemos con la "otredad" en los espacios públicos. Es, de hecho, un intento de recuperar cierta conciencia de ocupación integradora, de presencia alternativa, con una mirada de extrañeza que nos permita vernos a nosotros mismos participando del "parlamento de las cosas" (Latour), representando a aquellos que no tienen voz ni presencia en nuestras acciones políticas cotidianas.
︎ 04/2017 © Santiago Morilla
︎ "Making of DERIVAS BABILÓNICAS". Single-channel Video Artwork (1:16)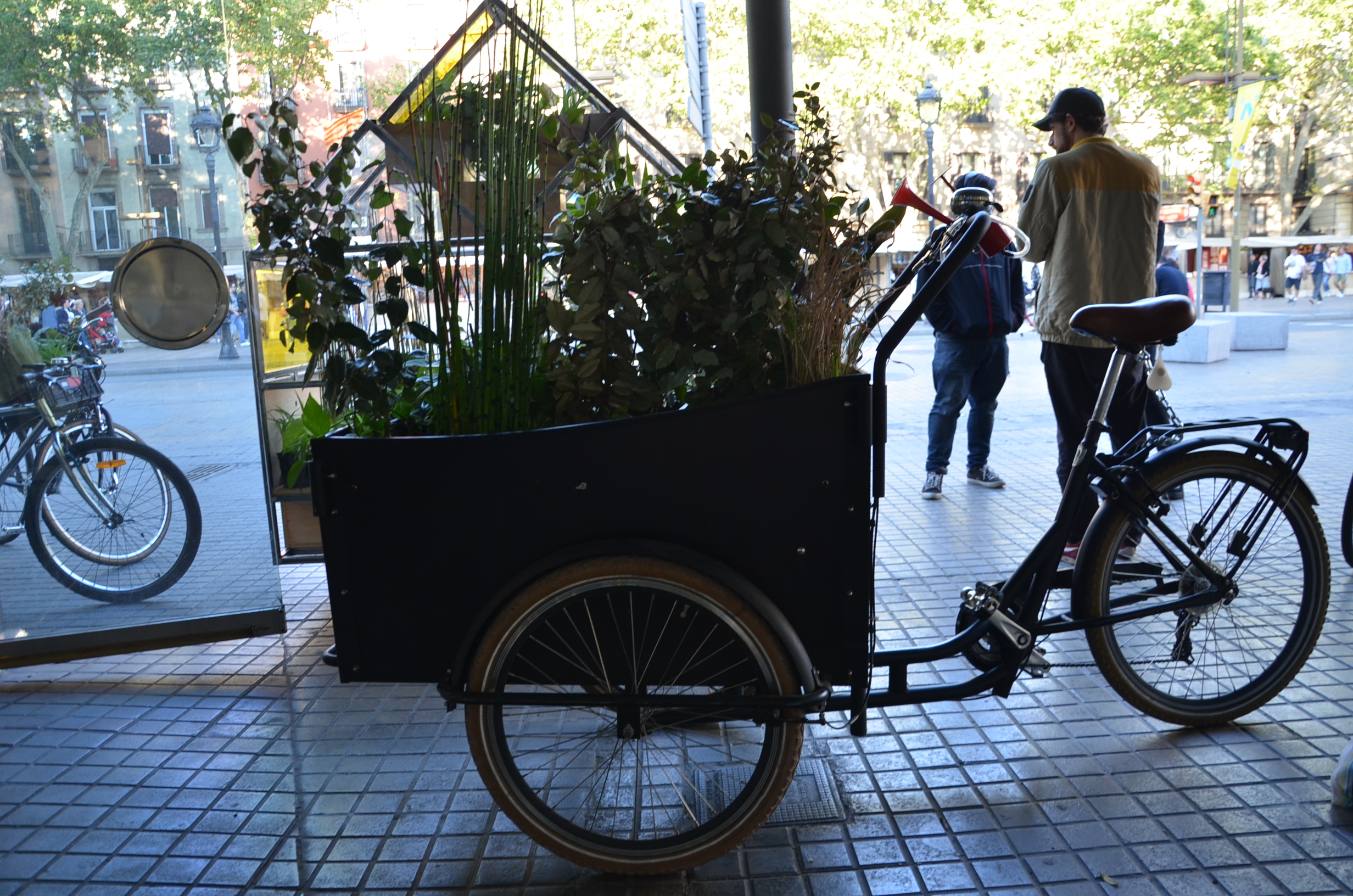 ︎ E
xhibition PEEP SHOW (10-16/04/2017) at Centre d'Arts Santa Mònica (Barcelona) and performance "Babylonian Drifts", Barcelona.

︎ P
erformance "Babylonian Drifts", Barcelona (12-13/04/2017)